Last updated: 17 Feb 2006 - 22:04
Here we go again, Microsoft bashing! However, I will say now that other presentation packages irritate me as well, although there is something particularly annoying about the Microsoft product.
Well, I better put in some context. One of the last bits of assessment for the first semester of my Electronic Engineering degree, was a presentation on a design project we had been set. The presentation didn't irritate me in itself, although I find it sad that they feel engineers have to be taught these sort of things, but management techniques could be an entire new rant! However we were instructed that we had to write a presentation in Microsoft Powerpoint. This immediately irritated me enormously, as any one who knows me can imagine. The idea that they could demand we used an expensive, proprietary piece of software, that is notorious for incompatibility with documents generated with other software, was frankly offensive.
Section:
Tags:
Last updated: 06 Feb 2006 - 23:17
I was browsing the net some time ago looking for a piece of information quite unrelated to what I actually found. What I did find however was a superb quality selection of cardboard models. There are a range of subjects, the GameBoy Advanced Wars game is one, as well as Zelda, with some very impressive models, but the area that caught my eye was the Star Trek models.
I've always been a DS9 fan more than the others, it was the first Star Trek series I saw the whole of first time round. The defiant model looked like an interesting build so I downloaded the PDF of the parts from Ninjatoes' paper craft site and after a couple of months actually got around to printing and making it. I ended up making most of it in "revision breaks" during my first set of uni exams but it didn't seem to have a particularly detrimental effect.
Section:
Tags:
Last updated: 07 Dec 2005 - 19:58
Developer: freeciv.org
Price: Free
Rating: 5/5
Freeciv 'cause civilization should be free or so it says when it starts. Freeciv is basically a free, open source version of the strategy classic Civilization 2. It has a few differences, or so I'm told, never having played Civilization. It is however a superb game in it's own right. The game supports multiple computer and human players in a complex and rich world of alliances, trades, and battles. Your aim: to get a spaceship to Alpha Centauri before any one else, without them killing you first. There are two approaches, the outright war, and the speedy researcher. Generally I use a balance of both, but feel free to try out your own style.
Section:
Tags:
Last updated: 25 Nov 2005 - 22:05
I'm going to take this opportunity to rant about Internet Explorer. You may have seen my review of Firefox, which is, of course, very favourable. However, my opinion of Internet Explorer is somewhat lower.
Section:
Tags:
Last updated: 25 Nov 2005 - 19:50
Developer: Mozilla
Web: http://www.mozilla.org/products/firefox/
Price: Free
Rating: 5/5
Firefox is a superb open source browser, well worth a look, even if you think the browser you use at the moment is quite adequate.
Section:
Tags:
Last updated: 20 Nov 2005 - 21:56
A few questions you might ask:
How did you draw the Stargate?
I used an open source CAD (Computer Aided Design) package called QCAD, sadly since I drew this the software availability has changed, there is still a community edition available from the RibbonSoft website, however this is a source distribution suited to confident Linux users.
Are the glyphs all correct?
Well, they're mainly authentic, I recognised a good few of them as I drew them from a picture I found. I'm not sure which gate it is though, if any. Glyph one is the "Tau'ri" symbol found on the Egyptian gate, which would suggest that it's that one but I don't know about the order of the other glyphs.
Section:
Tags:
Last updated: 02 Nov 2005 - 00:13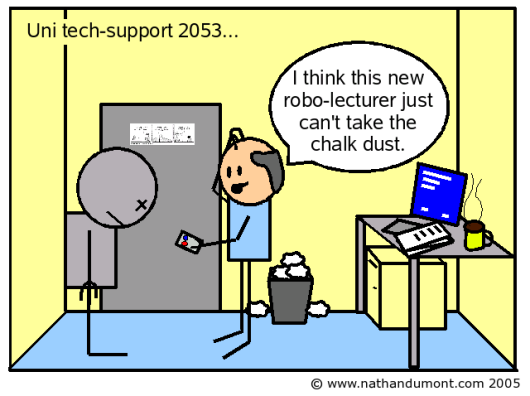 A drawing I did after having noticed how all lecturers always seemed to use chalk, never a white board or smart board type system in lectures, the cartoon contains quite a few things I've hinted won't change even in the distant future when robots replace lecturers or try to...
[UPDATE] I have now seen one lecturer use a whiteboard, but only because we were in the department conference room for an extra revision lecture, this is one of only two rooms on campus that I can think of with a white board, and the only one I can think of that doesn't also have a chalkboard.
Section:
Tags:
Last updated: 26 Oct 2005 - 22:08
It's a silly time in the morning but my first lecture isn't until 11.15 tomorrow so it doesn't really matter. This is the first of many rants, I could have called this a Blog but it just didn't seem fitting because it isn't so much a log as me moaning or waxing-lyrical about something!
Section:
Tags: